bird feed: gardman no mess wild bird seed mix 12.75kg
Make browsing easier & select Browse By Price or By Shop. Click on the products for more information & to buy them In Store.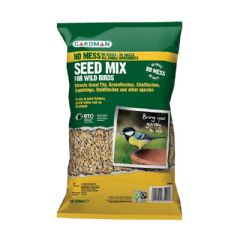 Gardman No Mess Wild Bird Seed Mix 12.75kg
This No Mess Wild Bird Seed Mix contains a rich mixture of quality ingredients perfect for attracting a range of beautiful birds to your garden.
No husks seeds such as sunflower kernels peanut bites oats and crushed wheat.
Suitable for use in seed feeders on bird tables and ground.
Recommended for: Blackbirds Blue Tits Bullfinches Chaffinches Coal Tits Dunnocks Goldfinches Great Tits Greenfinches House Sparrows Long Tailed Tits Nuthatch Robins Siskins Song Thrushes and Wrens