bird feed: chapelwood wild bird peanuts 1kg
Make browsing easier & select Browse By Price or By Shop. Click on the products for more information & to buy them In Store.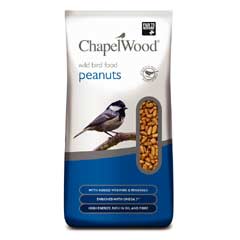 Chapelwood Wild Bird Peanuts 1kg
Attract a range of wild birds to your garden with these Chapelwood Peanuts which are rich in fibre oils and protein which will attract the widest variety of garden visiting birds. For increased quality they are presented in a Stay Fresh foil lined bag.
These are ideal for all year round feeding; providing a balanced dietary supplement for the highly active spring / summer months and to survive the long cold winter months.
All Chapelwood peanuts are aflatoxin tested.
Quantity: